Would You Rather? Teen Challenge Edition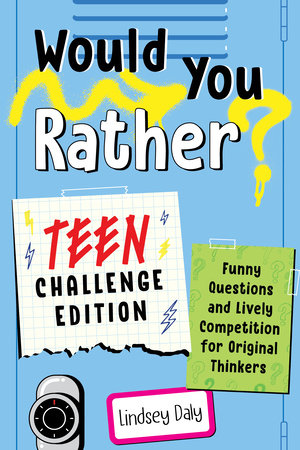 Help your teen take a break from social media, school, and everyday teen stress with this super fun game of 160+ hilarious "Would You Rather?" questions designed specifically for them. Covering topics teens care about and contemplate—from technology to entertainment to adventure—this age-appropriate book gives teens space to laugh, think, and hang out as they try to win the Would You Rather? trophy.

Would You Rather? Teen Challenge Edition features:


Creative challenges

 

through either/or scenarios that make teens think outside the box, use their imagination, and pull together facts quickly.
Screen-free time

 

with entertaining and thought-provoking questions that give everybody a

 

break from technology.
A competitive game

 

for teens who want to outsmart friends and family with the funniest or most creative answer.
A safe social activity,

 

perfect for hanging out together after school, at parties, at summer camp, at sleepovers, or on vacation.
A perfect teen gift

 

for birthdays, holidays, or just for fun!

Whether your teen is the class clown, the creative genius, or simply looking for great entertainment, Would You Rather? Teen Challenge Edition will give them hours of fun.
ISBN 9780593435670
Ages 12+