WE ARE OPEN FOR IN-STORE SHOPPING
IN-STORE HOURS : WEEKDAYS 10AM TO 5PM, SATURDAYS 11AM TO 5PM, SUNDAYS 12PM TO 4PM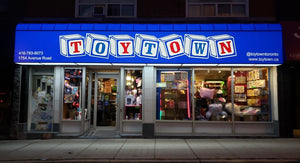 Our Toy Story
Established in 1952, Toytown is Toronto's leading independent toy store. Family-owned and operated, we specialize in a curated selection of toys, games, puzzles, arts & crafts, and the best trends for kids of all ages.  Our product knowledge and customer service are key to the Toytown experience. 
Free Neighbourhood Delivery On Orders Over $75
We offer neighbourhood delivery within a 2KM radius of our store.  If your order is under $75 there will be a $10 delivery charge, or you can choose to pick up your order from the store.
We are now offering an expanded local delivery option with Mile1.  If your address falls outside of our 2km neighbourhood delivery zone, you now have the option to choose Mile1 as a delivery service.  Delivery with Mile1 is free with purchases over $125, or $11.50 if your purchase is under $125.  A surcharge will apply for orders over 20lbs, and/or beyond the Mile1 local delivery parameters. With Mile1 delivery, you can even choose a 1 hour delivery window and preferred date for your convenience.
Note: Deliveries will arrive in bags and contents/toys will be visible when we drop off. Please specify any delivery instructions you may have.
Deliveries are weekdays only, and guaranteed within 72 hours of placing an order.
Looking to ship something outside of the GTA? We now offer shipping throughout Canada. Check out our shipping policy to learn more.