Would You Rather? Summer Edition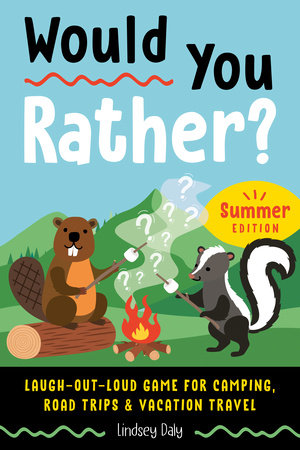 School's out! Now you can finally relax and have an awesome vacation. And this laugh-out-loud Would You Rather? book is the perfect companion for all your favorite summer activities, whether you're at home, at camp, in a tent in the woods, at the pool, or on the road with family and friends.

Would You Rather? Summer Edition features:


Thought-provoking scenarios

 

that entertain and challenge kids ages 8-12 to think creatively and speak persuasively.
160+ "Would You Rather?" questions

 

about campfires, whitewater rafting, pool parties, rock-climbing, bottle rockets, capture the flag, and so much more.
Awesome entertainment

 

for camping, summer

 

camp, and road trips.
Tech-free fun

 

for lazy summer days.
A competitive game

 

for kids and families; who's the smartest of them all?

Would You Rather? Summer Edition will keep you entertained and laughing in the family car, at the beach, under starry skies, in a camp cabin, or on a cozy hammock in your backyard on warm summer days and nights.

ISBN 9780593690529
Ages 8 -12