Sharon, Lois and Bram's Peanut Butter And Jelly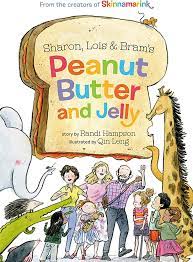 From the creators of Skinnamarink comes another picture book based on the classic sandwich song made famous by this beloved trio of children's entertainers.

First you dig the peanuts and you dig 'em, you dig 'em,
you dig 'em, dig 'em, dig 'em.
Peanut, peanut butter, JELLY!

Sharon, Lois & Bram invite readers to join them on an adventure to a magical place where a diverse group of animals and children come together to create the most delicious of snacks: a peanut butter and jelly sandwich!

Accompanied by Qin Leng's wonderfully whimsical illustrations, this delightful picture book celebrates friends, community, music and a favorite tasty treat — mmm mmm mmmm!
ISBN 9780735271104
Ages 3+