Ravensburger Underwater Discovery Jigsaw Puzzle 200pc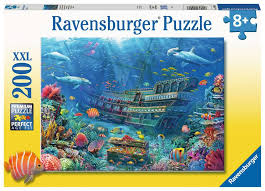 This super-pretty design would make a great gift or pastime for anyone who loves fantasy scene, unicorns or just wants to escape into a different world. A relaxing activity to spark interesting conversations and a great pastime to enjoy with parents, grandparents, siblings and friends.

Our 200 piece jigsaws are crafted with premium quality materials and measure 49 x 36cm when complete.

Suitable for ages 8+.