Ravensburger Minions 100pc Puzzle XXL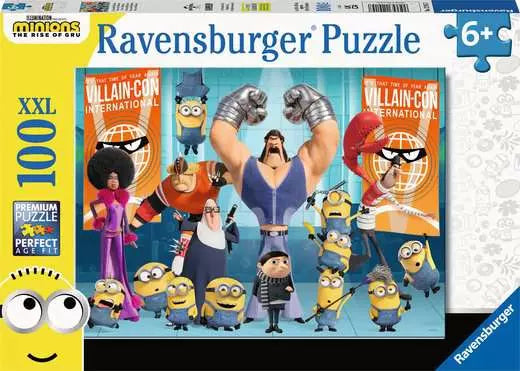 All 12 year old Gru wants is to fulfil his dream of joining the supervillain group, Vicious 6, and becoming the worlds greatest supervillain.
Our 100 piece kids puzzles with XXL large pieces are crafted with premium quality materials and measure 49 x 36cm when complete. Great puzzles for Children 6 years old and up. Fully complies with all necessary UK and EU testing standards.
This 100-piece puzzle has extra-large, durable pieces little hands can easily hold on to for lots of repeat fun! Clean-cut pieces and Ravensburger's tight interlocking fit provide a pleasurable puzzling experience for children and their adult helpers alike. With piece counts children can grow with, our Perfect Age Fit criteria ensures this puzzle is fun and educational for ages 6 and up!
Finished puzzle measures approximately 19.5 x 14.25 inches (49 x 36 cm).