Ravensburger Cat Nap Jigsaw Puzzle 500pc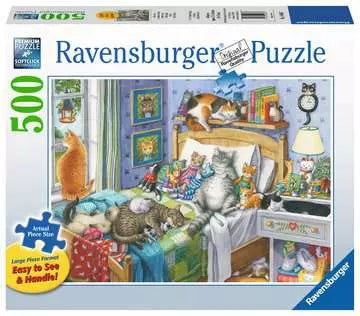 Cuddle up with this cozy scene of fatigued felines for hours of satisfying fun solving our calming "Cat Nap" puzzle!

Ah, to be a cat and lounge around all day with not a care in the world! Our serene scene certainly invites you to relax and enjoy some down time with a variety to cozy kitties. It's nap time for most of them, but the orange tabby has spotted something interesting outside. What could it be? With cats and kittens curled up wherever they please, it's a good thing you're out for the day since there's no room for you! Makes a perfect birthday or holiday gift for your favourite cat lover.
Fun for ages 12 and up! Measures approximately 27 x 20 inches (70 x 50 cm) when completed.