Iscream X Corey Paige Hearts Lounge Pillow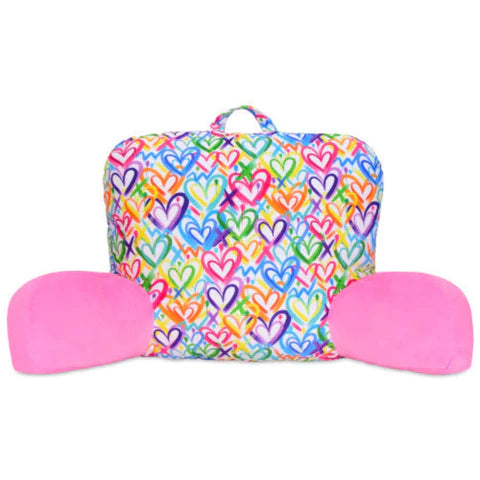 This lounge pillow is perfect for reading, working, taking a nap, or just lounging around. It's like a back rest, a pillow, and a stuffed animal all rolled into one, adorable product. Comfort and summer camp go hand-in-hand. Make sure you're able to lounge it up at camp! There isn't always a lot of comfortable seating in cabins at camp, so kids will often end up piling together on a single bed. These lounge pillows make that a whole lot more comfortable! Pick the one that best suits your child's personality for all their new friends to see!
Made entirely—inside and out—of polyester, these Pillows are a soft, cushy wonder. Bring the proper pillow for your lounge time at summer camp and keep comfy! With open, welcoming arms, you can really lay back into this large pillow and...R E L A X ! ! !
Loop handle at top
Back height: 15.5"
Back width: 19" 
Arm length: 9"