Dinosaur Activity Set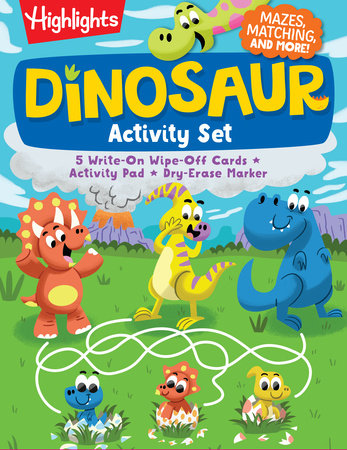 Bursting with dinosaur fun! With 5 write-on wipe-off cards and a 96-page activity pad, this set is packed with colorful illustrations of dinosaurs alongside a variety of ways to create, puzzle and play. Keep petite paleontologists ages 3-6 engaged in screen-free fun for hours!

Kids can use both sides of the write-on wipe-off cards to complete creative drawing and writing prompts like creating their own dinosaur and completing fill-in-the-blank stories. A dry-erase marker is included so kids can complete each wipe-clean page again and again. The activity pad includes Hidden Pictures puzzles, That's Silly scenes, mazes and matching activities featuring all kinds of dinosaur friends. The cards, pad and marker all store neatly in the activity set folder to take dino fun on the go!

These dinosaur activities aren't just entertaining — they help kids strengthen school skills as they play. Hidden Pictures scenes help kids develop attention to detail and concentration, while mazes and drawing activities boost visual perception and fine motor control.
ISBN 9781644729120
Ages 3-6